Zooming in on financial markets
Financial Market Microstructure is a relatively narrow research field at SBS, but its prospects are excellent. Unique access to data gives the researchers an advantage in empirical research. Their work now influences policy makers both nationally and internationally.
The Financial Market Microstructure Research Group at SBS has been successful in recent years, both in academic publications and in outreach to society. This research field has now been identified by the Faculty of Social Sciences as one in which Stockholm University sees a major potential for playing an internationally leading role in the future.
One of the group's researchers is Björn Hagströmer, Associate Professor in Finance. He thinks that one of the reasons for the group's success is the access it has to more and better data than other researchers.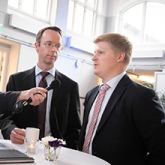 "Research in Financial Market Microstructure often requires what is called proprietary data, data that is not open to the public. We have a unique access to proprietary data through a collaboration with our local stock market NASDAQ-OMX Stockholm, and we also collaborate with Finansinspektionen − The Swedish Financial Supervisory Authority. Sweden has a tradition of transparency which enables use of this kind of data. That is a great advantage for our group and we do a lot of empirical research", Björn says.
A complex topic
The financial markets have undergone major changes during the last decade. Stocks, bonds and other financial instruments are now traded extremely rapidly and in many different exchanges.
"Regulators and policy makers try to keep market standards high, but it takes a lot of insight to make the right decisions. Financial Market Microstructure is a complex topic and it takes in-depth analysis to understand what is actually causing a certain phenomenon. What may be viewed as a problem, might not really be one," Björn says.
The researchers study how financial markets are organised, what rules and regulations the participants have to comply with, and how changes in the rules for the market affect trading.
"The word "Microstructure" describes the topic well, because you have to zoom in on the details of how markets are organised to understand the incentives of all participants."
Effective financial markets
Three main concepts − liquidity, efficiency and volatility ­­­− determine how well financial markets function, how high the market quality is. Liquidity describes how costly it is to trade, and efficiency measures the market's ability to incorporate all available information into the prices. The third concept – volatility − is the degree of price fluctuations. More volatile securities are considered to be more risky.
"We study how regulation, market events and the interaction of different trading strategies influence these concepts. Some investors come to the market to buy and hold securities for ten years. Others are in the market to make a profit from the trading itself, so they may buy in one second and sell in the next second."
Surprising results for "fast trading"
As in all industries, operations have become more and more automatic in the financial markets. Many trading decisions are made automatically by computers on the basis of the way participants have programmed them to respond to incoming data. This "algorithmic trading" as it is called – or fast trading – is studied intensively by the Financial Market Microstructure Research Group.
"There was a major debate in Sweden in 2011 about fast trading. Traders felt that they didn't understand the markets anymore, and proposals were made to stop fast trading. My colleagues and I felt we should contribute to the debate and provide an understanding of what was going on in the markets: investigate whether fast trading is actually good or bad", Björn says.
Their findings were not what people had expected.
"Our research shows that markets have improved. Fast trading has made markets more efficient and less volatile. Costs have been cut when exchanges have invested in infrastructure to cater for fast traders. It is cheaper to trade these days."
Impacts on policy decisions
'The research undertaken by the Financial Market Microstructure Research Group attracts interest both in the financial industry and among regulators.
"We are close to what actually happens and have a good outreach. We present our work to regulators at the national and European level, and also to investors in Sweden and abroad."
SBS is now applying for grants to expand the Financial Market Microstructure Research Group. And its research is not limited to fast trading.
"We want to have an impact on policy and take on the topics that are currently the most important ones for the debate. The financial markets are constantly evolving with new technology, new regulations and new strategies. All that is creating new research opportunities for us", Björn says.