Welcome to Stockholm!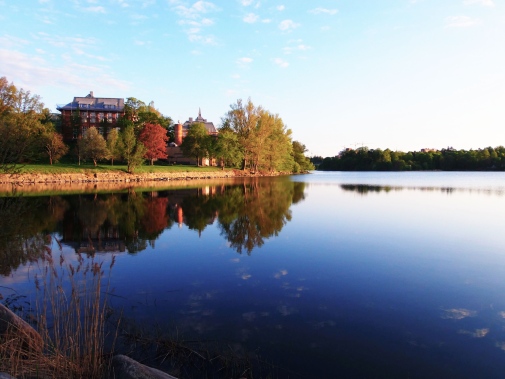 Venue
The conference venue is Stockholm Business School (SBS). SBS is one of the largest departments of Stockholm University. The University, which dates back to 1878, is a regional centre for research and education, set in a wonderful cultural and natural environment in the world's first national city park. SBS is located at a beautiful campus on walking distance from the city centre. The conference will be in the main building with the glass entrance, Building 3A.
Find your way to Kräftriket here >
About Stockholm
Stockholm, sometimes called the capital of Scandinavia, is built on 14 islands connected by over 50 bridges. The proximity to the water is a distinctive trait of Stockholm, which was founded in 1252 and is the country's financial and business center. The old part of the city, Gamla Stan, with its narrow cobblestone streets, is one of the most unique and well preserved medieval city centers in Europe. Some of the most notable attractions in this district are the Royal Palace and the daily changing of the guards, Stockholm Cathedral, and other beautiful churches and museums.
Transport
There are transport cards valid for 24-hours and for 72-hours and on all means of transport. There are also regular tickets. You can purchase the cards or tickets at metro stations (Tunnelbanan) or at the Pressbyrån (convenient store) usually found inside or near the station.
Food
Stockholm has plenty of restaurants serving international cuisine and cafes that serve finger foods, salads and cakes. The 7Eleven convenient stores also sell sandwiches, paninis (50SEK) and cakes of good quality and at reasonable prices (20SEK to 60SEK). These stores are found on almost every major street in the city. Fast food in the like of McDonalds, Burger King and the local Max Burger (cheaper and "greener") is available near the major places of attraction. On average a fast food meal costs around 60SEK. There are also local "fika shops" that sell wonderful Swedish cakes and pastries (count on 80SEK). We strongly advise a fika experience as it is an essential part of the lifestyle of Swedes.
Bars and Nightlife
Nightlife is plentiful in Stockholm but can be quite expensive. The ICE BAR is a great experience and booking is a must. Interestingly, many restaurants in Stockholm turn into nightclub/bar late at night.