How to write a CV
Your CV – curriculum vitae – is an overview of your knowledge, skills and experience. There is not one right or wrong way to write your CV. What is important is that the reader swiftly gets a clear picture of your qualifications.
Your CV should not be longer than two pages.
Customize your CV according to the position you're applying for. Stress relevant experience.
Use clear headings: Education, Work experience, Other qualifications, Contact details.
Start with your latest education / position and go backwards.
Use active verbs: I developed / produced / organized / was responsible for.
Do not exaggerate.
References should not be included in the CV, but there should be a note that they will be provided on request.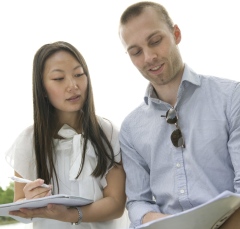 Two types of CV
Chronological CV
A chronological CV is the most common type. The qualifications are listed in reverse order under the following headings.
Contact details: Name, address, date of birth (not the last four digits), phone number and email address.
Education: The name of the university and the education, degrees, start and end year of the education (2004-2009, 2005-ongoing, or 0809-1009). Include other relevant courses that are not part of the degree, such as courses in language, statistics and law.
Work experience: Only include relevant jobs. Employment period, company, position, main tasks and areas of responsibility. If it is an unknown company, briefly describe the business.
Language skills: State your skill level: basic, good, very good and fluent.
Computer skills: For example Excel, InDesign, Photoshop.
Other information: Experience that does not fit under the above headings, but which the employer might find relevant, such as non-paid assignments, sports activity, military service or a long-term stay abroad. You can also mention hobbies.
Functional CV
A functional CV begins with the following three sections. The rest is the same as in a chronological CV.
Objective: What you aim for in your working life. Should match the duties of the position you are applying for.
Main skills: The most important skills for the position.
Experiences: All relevant experiences and skills. You do not need to describe where or when.