Master programme in Accounting
This innovative and intellectually demanding programme gives a broad overview of different disciplines in accounting, such as financial accounting, auditing and management control, after which students can focus on more specialized subject areas. The programme is given in close co-operation with the research staff in accounting and not only prepares students for senior positions as accountants, but also for academic research in the field of accounting.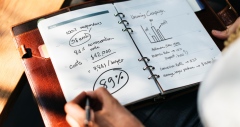 This program will have no new admission!
Accounting is a central area in the managing, governing and financing of modern organisations. The globalisation of financial markets and new developments in regulation and governance of organisations have contributed to an increased demand in expertise in accounting. This goes for both practice and research. As a student of the programme you will learn about the developments of both practice and research in many areas of accounting and as a graduate you will be able to contribute to both practice and research. You will also benefit from a highly qualified teaching staff.
If you're interested in accounting, you'll love this programme! It's fun and intellectually challenging.
The programme provides you with knowledge and skills in high demand among employers.
It integrates topics highly relevant for practice with a research perspective.

The programme offers the possibility to take a one-year master (SWE magister).



What you will learn
Master in Accounting is centered around various themes that each represent a different aspect of accounting. Apart from a set of compulsory courses, students are given the opportunity to focus on specific sub-disciplines of accounting.
Your future career
The programme provides a solid background for students pursuing a professional career in accounting, whether that be in accounting and auditing firms, multinational companies, financial institutions or government agencies. After graduation you will be well prepared to pursue a career in practice as well as in research. Please note that in order to become a certified auditor in Sweden, you will need to add courses, which can be done as part of the elective courses.

Eligibility requirements and selection of applicants
A bachelor's degree with a minimum of 60 ECTS credits in Business Administration. The student must have a knowledge of English corresponding to English B/6, Swedish upper secondary school. The ranking and selection of master students is based on GMAT or GRE.
Semester 1
The first semester consists of compulsory and elective courses in Accounting.
Semester 2
The second semester consists of courses in accounting and/or one-year master's dissertation.
In order to do this, student should have accomplished a minimum of 15 ECTS from the first semester within the programme. To continue onto year 2, students must have accomplished a minimum of 52,5 ECTS during year 1.
Semester 3
During this semester students can study abroad or take elective courses. To enter the fourth semester and the degree project the student should have completed a minimum of 75 ECTS within the programme.
| | | |
| --- | --- | --- |
| Course | ECTS | Rate of studies |
| Elective courses | 30 | 100% |
| or | | |
| Studies abroad at one or our international partner universities | 30 | 100% |
Semester 4
The fourth semester consists of writing a master's thesis with relevance to the programme. The thesis is expected to give a substantial contribution to research.
Read more about our application process and how to apply.
For more information about this programme, please contact our Academic Advisors.