Master programme in Marketing
Drawing on Stockholm Business School's long-standing expertise in marketing, strategic communication and consumer studies, this programme integrates advanced theoretical perspectives and methods in social sciences to address contemporary phenomena in consumer and business marketing.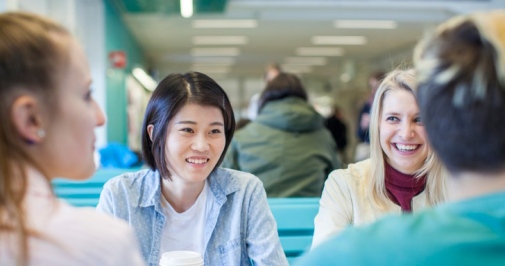 Why study marketing at Stockholm Business School
Marketing is a practice as well as an academic discipline. As human beings living in today's world we are affected by marketing in many ways beyond business issues. As future marketers, students of the CBM programme will need to deal with diverse new phenomena such as audience fragmentation, corporate social responsibility and service dominant logic. This programme critically assesses the latest marketing theories, enabling you to analyse contemporary business situations and offer the most suitable practical solutions.
Enjoy the benefits of a highly skilled and experienced faculty.
The programme equips you with the knowledge and skills required to analyse contemporary and future developments within marketing.
The program provides you with a solid background for a career in marketing and consumer research.

What you will learn
The programme gives you the necessary knowledge and skills, such as analytical thinking and ability to holistically evaluate marketing configurations, to critically analyse the forces and practices that shape and change the future of marketing. Through this process you will be able to better understand and evaluate markets, organisations and communities.

Your future career
The programme provides a solid background for students pursuing a career in marketing, communication, consulting and government, i.e. as account manager, consulting specialist, project manager, media executive, or marketing expert. You will also be provided with a strong background for students pursuing an academic career in research and teaching.
Eligilibity requirements and selection of applicants
Eligibility requirement is Bachelor degree in any science and English level B/6.
The length of this programme is 2 years full time and you will obtain 120 ECTS credits and receive a degree in Master of Science with a main field of study in Marketing.
The language of instruction during the programme is English and the ranking and selection of master students is based on GMAT or GRE. The deadline to apply for this programme is January 15.

Semester 1
During the first semester, the programme is conceptually and thematically organised. course outline focuses on consumer and marketing knowledge on advanced level and how economic, political, technological and cultural developments affect markets and organisations, and how these in turn shape consumption and work in contemporary society.
Effective autumn 2018
Semester 2
During this semester we offer specialized courses in Consumer and Business Marketing as well as Qualitative Methods course where students get a chance to think deeper about their chosen subject.
To continue onto year 2, students must have accomplished a minimum of 52.5 ECTS during first semester.
Effective autumn 2015
Effective autumn 2018
Semester 3
During the third semester you may broaden or specialise your expertise by choosing between a number of electives offered at SBS or at other departments within the Faculty of Social Sciences. You can also choose to do an exchange semester abroad. Another option is to take a Reflective Practice course where you will simultaneously work as an intern for a company but also reflect on your experience academically.
To enter the fourth semester and the degree project the student should have completed a minimum of 75 ECTS within the programme.
| | | |
| --- | --- | --- |
| Course | ECTS | Rate of studies |
| Elective courses | 30 | 100% |
Semester 4
During the last semester you will write a 15,000 words master's dissertation. The dissertation enables you to further advance the skills and knowledge you have developed during the taught courses by applying relevant theoretical perspectives and social science methods in an empirical setting.
Read more about our application process and how to apply.

For more information about this programme, please contact our Academic Advisors.