Application and costs of summer programme
Eligibility & Language requirements
If you are interested in taking part of Stockholm Business School's Summer Programme then you need to be nominated by your home university. The international office at your home university has to email a confirmation to summer@sbs.su.se . Once the nomination is accepted a link to the online application form will be sent to the student. Last day to apply for Summer Programme 2018 is April 15th, 2018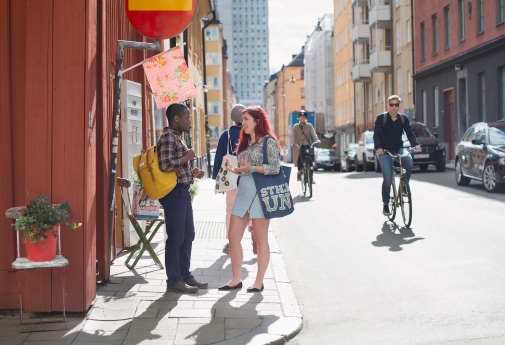 The summer programme is only available for students from Stockholm Business School's partneruniversities.
To be eligible for studies at Stockholm Business School, you must be registered as a student with one of our partner institutions and have completed one year of undergraduate level studies. As all courses are taught in English, you will be required to have sufficient knowledge of the English languange.
Home university nominates students to summer@sbs.se
Students receive email with link to online application
Students pay cost for the summer programme
Once payment is reveice a letter of acceptance is sent to student by SBS
Arrive in Stockholm
There are no tuition fee for the program/courses for students coming from one of our partner institutions. The fees are related to costs for housing, class materials and social events etc. Since the schedule for the courses are designed to enable the students to participate in two courses each two week period we encourage the students to sign up for as many courses as possible during their stay, in order to make the most of their visit to Sweden from both a knowledge and social perspective.
2 weeks stay (1 - 2 courses): 7.500 SEK*
4 weeks stay (2-4 courses): 15.000 SEK*
6 weeks stay (3-6 courses): 22.500 SEK*
The following is included in the fees:
Housing in single rooms ( see link to housing )
Wireless internet on campus
Welcome and farewell lunch
Social and cultural events
Company visits