Stockholm Business School Summer programme
Join Stockholm Business School (SBS) for our international summer school programme. Learn more about current topics in business administration and at the same time get to know Stockholm, Scandinavia's business and cultural hub. Study at one of the top-ranked business schools in Sweden!
The University provides a safe and dynamic learning environment, the perfect opportunity to meet and collaborate with students from around the globe.
Experience Swedish culture, through introductory seminars on Sweden as well as through excursions to local landmarks such as Stockholm City Hall, Skansen Outdoor Museum and the Vasa Museum.
Dates
| | | |
| --- | --- | --- |
| | Study | Accomodation |
| First period | June 29, 2020 to July 11, 2020 | June 28, 2020* to July 11, 2020** |
| Second period | July 13, 2020 to July 24, 2020 | July 12, 2020* to July 25, 2020** |
| Third period | July 27, 2020 to August 7, 2020 | July 26, 2020* to August 8, 2020** |
* move in housing between 3 pm to 6 pm
**check out from housing between 11 am to 12 pm
Schedule
A detailed schedule for each course will be confirmed to all nominated students once the application fee has been paid.
Course descriptions
Each course within the summer programme is worth 3 ECTS-credit and will each year cover the current topics in management, marketing, accounting, finance and pr & advertising.
--> Students participating in SBS Summer programme will also have the possibility to select from summer courses (3,5 ECTS) offered at the Department of Law.


Courses at SBS (to be updated for 2020)
Current topics in PR & Marketing
Current topics in Operations Management
Current topics in PR & Marketing (period 1)

Current topics in AdvPR (96 Kb)
The course familiarizes students with the contemporary perspectives and the progress in the field of advertising and public relation, serving as a valuable complement to the basic advertising and public relation course(s). More specifically, even if the course will endorse a business administration focus, given the interdisciplinary features of the field and the very recent research directions towards a more socio-cultural approach, the course will mainly focus on consumers/audience and socio-cultural and political application/implication. Students are thus offered opportunities to further examine topics such as modern marketing communication and visual design, consumer culture research, public relation and public diplomacy, both through individual and group assignments, and in this manner widen the basic understanding of the advertising and public relation discipline.
Current topics in Operations Management(period 1)
Today businesses are facing challenges in the growing markets such as disrupting technologies, changing customer preferences and behaviors. As a result, the organizations are trying to improve their operations to outperform other firms in terms of performance, service and product quality, and cost. Improving operational efficiency is crucial for the long-term survival and success of all organizations.
This course aims to provide the students with an understanding of operations management by providing the student with theoretical perspectives and methods. This will include both the theoretical framework as well as the practical implications with case studies.
Current topics in Management (period 2)

Current topics in Management (107 Kb)
The last three decades have seen dramatic rises in the employment rates of women. However, pronounced gender differences remain in the nature of women and men's contribution to the labour market. Whilst women represent over 40% of the global labour force and are moving into professional and managerial jobs, the number of women holding senior managerial positions is still low.
This course examines these and other gender issues in employment, and the reasons behind women turning to entrepreneurship. It introduces key concepts and theories of gender difference, gendered divisions of paid and unpaid work and gender ideologies. It discusses explanations for gender disadvantage and discrimination at work, evidence for gender differences in management and leadership style and the association of management with masculinity.
Current topics in Marketing (period 2)
This course introduces and explores current issues in the marketing field of study, focusing on the latest research, business, and societal developments. Students will have the opportunity to further examine topics as service marketing, high technology marketing, or sustainability and transcendence marketing, both through individual and group assignments, and in this manner widen the basic understanding of the marketing discipline.
Current topics in Finance (period 3)

Current topics in Finance (135 Kb)
The aim of the course is to navigate perhaps the greatest contemporary challenge to the economic well-being of citizens in developed countries: the shifting of responsibility for managing personal savings from governments and employers to households at a time when financial markets are more complex than ever. The course will provide students with some basic concepts and tools to understand the main aspects of this challenge and become more conscious consumers of financial products. Some specific topics include lifecycle theory of savings, investor profiling and the role of behavioral biases, complexity, incentives and market abuse.
Credit System
The Swedish higher education credit system is fully integrated into ECTS, the European Credit Transfer and Accumulation System. One Swedish higher education credit (sometimes called credit, HE credit or hp) is equivalent to one ECTS credit.
Eligibility & Language requirements
If you are interested in taking part of Stockholm Business School's Summer Programme then you need to be nominated by your home university. The international office at your home university has to email a confirmation to summer@sbs.su.se . Once the nomination is accepted a link to the online application form will be sent to the student. Last day to apply for Summer Programme 2020 is April 15th, 2020.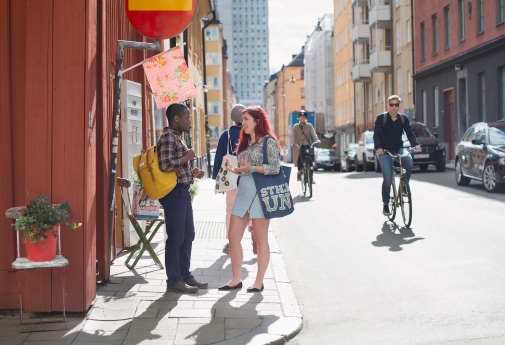 The summer programme is only available for students from Stockholm Business School's partneruniversities.
To be eligible for studies at Stockholm Business School, you must be registered as a student with one of our partner institutions and have completed one year of undergraduate level studies. As all courses are taught in English, you will be required to have sufficient knowledge of the English languange.
Home university nominates students to summer@sbs.su.se
Students receive email with link to online application
Students pay cost for the summer programme
Once payment is reveice a letter of acceptance is sent to student by SBS
Arrive in Stockholm
There are no tuition fee for the program/courses for students coming from one of our partner institutions. The fees are related to costs for housing, class materials and social events etc. Since the schedule for the courses are designed to enable the students to participate in two courses each two week period we encourage the students to sign up for as many courses as possible during their stay, in order to make the most of their visit to Sweden from both a knowledge and social perspective.
2 weeks stay (1 - 2 courses): 8 000 SEK*
4 weeks stay (2-4 courses): 15 000 SEK*
6 weeks stay (3-6 courses): 22 000 SEK*
The following is included in the fees:
Housing in single or shared rooms in Idun ( see link to housing )
Wireless internet on campus
Welcome and farewell lunch
Social and cultural events
Company visits
Insurance
1-week public transportation card (www.sl.se )
Two copies of transcript of record sent to home university
NOTE! Food is not included in the fee.
As soon as you have received your Letter of Acceptance from the international coordinator, you need to start looking into some important aspects of your stay, such as your visa and insurance.