Avslutning / Graduation Ceremony at SBS
Every year in June, Stockholm Business School organizes a ceremony in Aula Magna for students who have completed their education during the year. Both Bachelors and Masters Graduates are invited and approximately 600 people attend this grand ceremony which is followed by a reception in Galleriet in Aula Magna.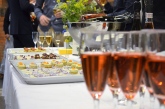 The Head of Stockholm Business School (SBS), teachers and staff and representatives from the Student Union together with an annual guest speaker are some of the speakers that celebrate and says good bye to our graduates.
By the end of the ceremony, awards are handed out rewarding great academic performances for best Bachelor and Master Thesis. Up until now the award for best Master thesis has been limited to the fields of study in Marketing and Management but in the future we hope to be able to award students from every field of study within our Business School.
Marginalen Bank, Ericsson and PWC who are loyal partners of SBS have previously also handed out special awards to encourage and reward studies on an advanced level.
Practical information
Please note that no degree certificates will be handed out. To apply for your degree, please visit:
Application for a degree certificate or
Ansökan om examensbevis
The invitation to this ceremony will be sent out via email and the ceremony with accompanying reception is for students and teachers, there has unfortunately not been room for bringing a guest.

If you have any further questions please send them to:
bachelor@sbs.su.se
studievagledare@sbs.su.se
masterprogrammes@sbs.su.se

Welcome upcoming graduates to this ceremony, which is one of the biggest highlights of the year!