Avslutning / Graduation Ceremony Online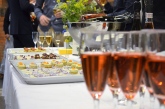 Due to the difficult situation caused by the corona virus in Sweden, we are unfortunately forced to cancel the grand Graduation Celebration that was planned for you on June 5th in Aula Magna.
However, we are still determent to give you a solemn farewell and celebrate you and your accomplishments as students at Stockholm Business School. The details are not set yet, but we plan for an online event to be held in your honor. Still on June 5th.
Time and venue: Afternoon, Friday June 5
Location: Online

To apply for your degree, please visit:
Application for a degree certificate or
Ansökan om examensbevis

If you have any further questions please send them to:
bachelor@sbs.su.se
studievagledare@sbs.su.se
masterprogrammes@sbs.su.se

Welcome upcoming graduates to this online ceremony!