Find your way around Kräftriket
The campus area, Kräftriket, consists of a number of different buildings. Below is a map and some useful information about Stockholm Business School buildings to help you find your way around.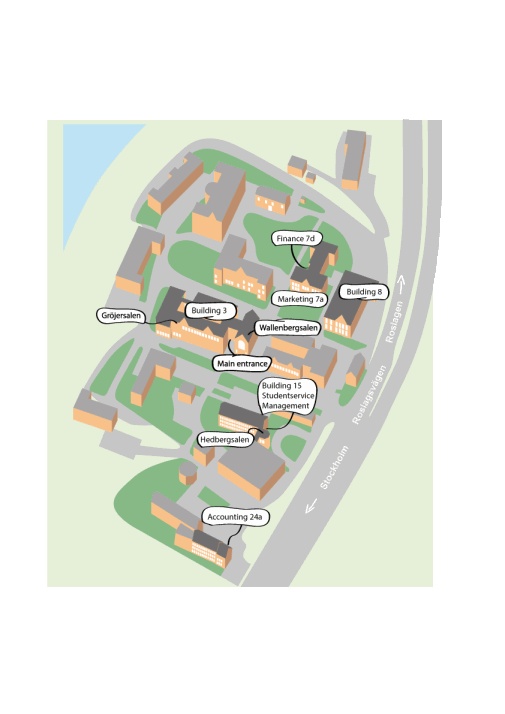 House 3, main building with glazed entrance
In the house there are Wallenbergsalen (244 places), Gröjersalen (84 seats), 8 seminar rooms (30 seats in each), Ljusgården with study places and café Prego. The cafe sells coffee, lunch, fruit and more and also has microwaves for heating your own food. The Boardroom and Faculty Lounge, available to employees, are also available here.
In the house, the faculty unit has its offices with the HR unit, the IT unit, the post office management department, etc.
On wind 4, the southern wind, there is the center of mission training that is responsible for the EMBA program
At wind 3, the northern part, the association has the economists their offices and meeting rooms.
House 7
In the high-rise part with entry no. 7a is the marketing section which includes advertising and pr. There is also a meeting room with approximately 22 seats.
In the lockhouse section with entrance number 7d is the finance section.
House 15
Entrance from the gable towards Roslagsvägen. On level 2 of the house is our student service with study director, student expedition, study guidance, essay lending ect. There is also the department's laboratory reception.
On plan 3 and 4 sits the management section here there is a meeting room with about 25 seats
In the basement, on level 1 there are two computers and two seminar rooms used for teaching but when they are not booked they can be used as study places for independent studies.
In the building you will also find the Hedberg Hall (69 seats).
House 24
In the house is the accounting section that includes operation management. In the building there are also the Academy of Economic Governance in the State (AES) and the Institute of Municipal Economics (IKE).
Find the right room
Our employees are in houses 3, 7, 15 and 24. The room number shows in which house and on which floor the room is. For example. 15: 322 = House 15, Level 3, Room 322.