Asma Mobarek's advice - don't be shy
Asma Mobarek certainly has an international background. She is born and raised in Bangladesh, did her PhD at the Leeds Business School in the UK and before she came to Stockholm she worked at the University of Dhaka and the University of Botswana. She appreciates the diversity here at the School of Business and thinks that the students are clever, but a little quiet. Her advice to students is: - Don't be shy. Consider the teacher as a friend, ask questions and come to us for advice no matter what type of problem you have.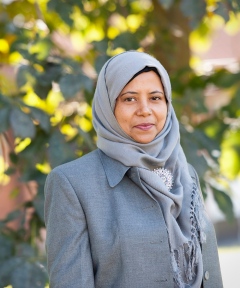 How did you end up at Stockholm Business School?
- I did my higher education in Europe and I like living in this part of the world. My impression of both Sweden and SBS was also very good so when I saw the vacant position for an Assistant Professorship in Finance, there was no doubt in my mind. I applied straight away and eventually got the position. I started in August 2009 and I really enjoy being here.

What is the best thing about SBS?
- Well, from a teacher's point of view I appreciate the fact that teachers have the opportunity to blend teaching with research. Overall, the teaching and research quality here is of a high standard and I enjoy the friendly environment and my helpful colleagues. And of course I also enjoy teaching and meeting students.

Can you tell us about your research?
I did my dissertation in the area of Market Efficiency and Asset Pricing in Finance and I have worked in different areas of Finance and Banking. I have worked as a principal investigator from Botswana University Accounting and Finance section team during 2007-2009 on the Pro-MHI Project on Micro Health Insurance funded by the ACP-EU Cooperation Program in Higher Education (EDULINK) with the financial assistance of the European Union (EU) with collaboration among the University of Cologne, Germany and University of Ghana. Recently, I have been funded with Banking (Handelsbanken research funding) and Nasdaq Stock Exchange (Stockholm) and Vinnova in Sweden. My current research interest covers wider areas surrounding some research projects as well such as: Market Integration, co-movement, herding behavior and Contagion, Corporate Governance, Islamic Banking and Finance.