Conference on the Econometrics of Financial Markets
On May 4-5, Stockholm Business School hosted the Conference on the Econometrics of Financial Markets, bringing together 85 researchers from all over the world. The conference celebrated the 20th anniversary of an influential book on financial econometrics, published in 1997 by John Campbell, Andrew Lo, and Craig MacKinlay.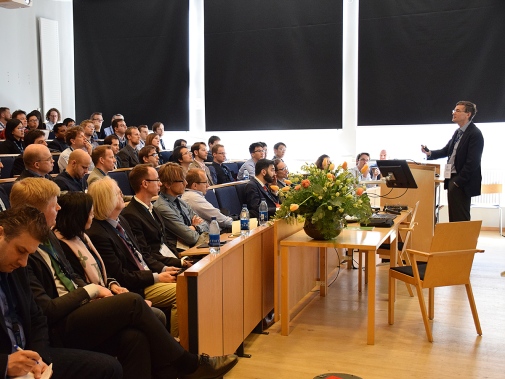 The Econometrics of Financial Markets has become a classic for empirical research, and it is still widely used by students, teachers, researchers and practitioners of finance. The book has played a major role in making empirical finance an important field of research, characterized by a close interaction with the financial industry.
On the initiative of Björn Hagströmer (Stockholm Business School) and Albert Menkveld (VU University, Amsterdam) the 20th anniversary of the book was celebrated at Stockholm Business School. Two of the authors, John Campbell (Harvard University) and Andrew Lo (MIT) delivered keynote speeches. John Campbell presented a study on the efficiency of households' mortgage decisions, and Andrew Lo addressed the intriguing question Can Financial Econometrics Help Cure Cancer?
In addition, the conference featured presentations of academic papers at the research frontier of financial markets, including important topics such as the automatization of trading, systemically important financial institutions, and network effects in financial markets. Papers and presentations are available for download at the conference website: sbs.su.se/EFM2017
The conference was generously funded by grants from Riksbankens Jubileumsfond (RJ) and Handelsbankens Forskningsstiftelser.